Location: N03 11.0815 E101 40.5867 Alt 152 ft Segambut, Kuala Lumpur, WP
Getting there: Off Jalan Duta-Jalan Kuching roundabout. Maybe not exactly off, from the roundabout heading towards Jalan Ipoh, make a left at the first traffic lights-junction and a right at the next traffic lights, shop is on the left. Sufficient parking in the area. For those who dwell in the primitive art of reading road signs, it is at: 42, Jalan Segambut Utara, 51200 KL (8am-5pm) or an alternative 58 Jalan SS2/10, 47300 PJ (11am-9pm)
Meal: Lunch
This shop did not have a signboard in the past and they have one now for good reasons. It used to be word of mouth place; people know how to get there but do not know how to call it other than Segambut Seafood Noodles.
Entering the premises is like entering a smeltery. At the entrance, they have a few small pots on blasting flames, looking as though the pots would not have a chance against the fire. It seems they are not cooking; they seem more like welding the flavours of the seafood with the stock. The heat can be felt all over the interior and one may wonder if the heat could be tolerated.
Not to worry, there are air conditioned rooms upstairs and an esplanade behind the shop. I chose not the sauna and headed upstairs for the climate controlled room. Many people were waiting for their orders, and it seems a little disorganised. Had a Michael Jackson for a drink, which tasted a little off.
In no time, my smelted seafood noodles came. Although it came piping hot, the prawns and fishball seems a little under cooked. The flavours were very well blended together.
They used industrial tom yum paste at an overdose quantity and the essence is very much from the seafood that is added in to the soup. They are quite generous with the seafood (so is the price of a bowl). It looked so good; I almost forgot to snap a picture before eating.
The curry seafood noodles were just as good, the curry was rather creamy and not too spicy. Some may find it too rich.
Rating:
Food: 8/10
Service: 5/10
Value: 6/10
Remarks: For an alternative, you may pop in the less popular competitor a few shops down call Lam Kei. Just as good, seafood is usually fresher.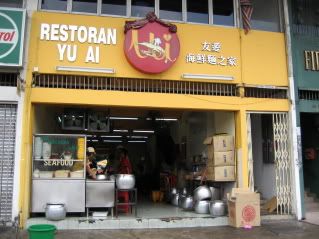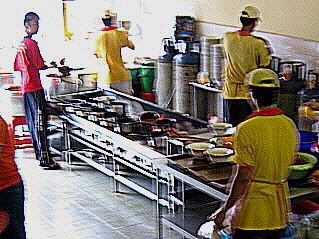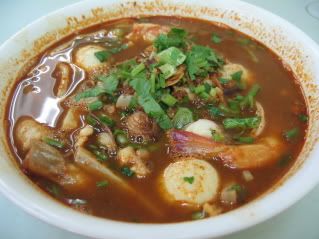 The alternative down the block: